By Road
Brentwood Diagnostic Centre is within easy reach of the M25, and central London by train. There is plentiful parking provided.
Take the M25 to Junction 28 (intersection with A12, and A1023). Follow the A1023 east for two miles through Brentwood town centre. As you go through the High Street you will come to two mini-roundabouts. Take the left turn (Ongar Road, A128). New North House is 200 metres down that road on the left at the intersection of North Road with Ongar Road. Access to parking is from North Road.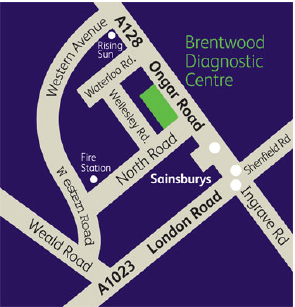 By Rail
From London Liverpool Street to Brentwood is a journey of approximately 36 minutes. The Centre is a five minute taxi ride from Brentwood Station.
Alternatively, fast trains from London Liverpool Street to Shenfield take around 25 minutes. Shenfield Station is five minutes from the Centre by taxi.